Quantcast.com stats and demographics available upon request.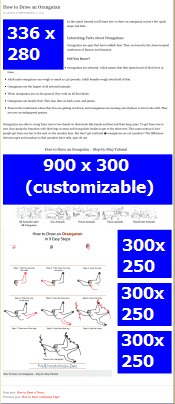 The screenshot illustrates the ad spots available on the Tutorials and Categories pages – which make up most of the site's content.
The 300 x 250 spots are highly visible – located right next to the "meat" of the page – the animal drawing tutorials, which are the main reason people visit the site and where they would spend most of the time. This is not something that visitors would simply skim through – they will actually stop here and spend time – giving your ad more time to grab their attention and pick their curiosity.
Also available are:
– one 336 x 280 (or less) spot "above the fold" at the beginning of the page;
– one 900 x 300 (or less) spot just above the tutorial;
– background takeover on whole site.
To place an order, or inquire further information, please contact me by clicking here.